Curious about our psychology team?
Anna Quinn
As part of Psychology Week 2020, we'd like to introduce you to members of our psychology team.
Psychology Week is an annual initiative of the Australian Psychological Society that aims to increase awareness about how psychology can help you lead a happier, healthier, and more meaningful life.
We're using the opportunity to profile members of our Psychology team – so you can learn a bit about them and their work in the field of forensic psychology.
Tell us about your role at Forensicare.
My role has three main objectives. Firstly, I oversee other psychologists across Forensic Mental Health Services at Ravenhall Correctional Centre by providing leadership, supervision and training to the psychology team and coordinating recruitment. Secondly, I contribute to service planning and development and provide expert consultancy and advice to Forensicare management and key stakeholders across Ravenhall. Thirdly, I am based on the Moroka Unit, which provides specialist mental health care and treatment to men with challenging behaviours associated with mental illness, including personality disorders. I provide a high level of clinical and forensic psychological expertise by working directly with consumers and by shaping service provision in the Moroka Program.

What drew you to becoming a forensic psychologist?
I am passionate about working with those individuals who have ended up in the criminal justice system. I studied psychology and criminology at undergraduate level and this served to increase my desire to better understand the factors that lead to offending and imprisonment, at both an individual and at a societal level. I appreciate the opportunities I now have to assist in humanising people in the prison system who are often misunderstood, feared, stigmatised and excluded, particularly those who find it difficult to engage with the services and supports available in wider society. The aim is to build relationships with individuals with the aim of improving their quality of life and that of people around them, as well as assisting colleagues to adopt psychologically-informed perspectives on mental health difficulties.

What kind of advice would you give to a student who is thinking of pursuing forensic psychology as a career?
Often the perception of what studying forensic psychology will be like differs extensively from the reality. It is not until the later years that specialist subjects can be undertaken, so from the outset, it is important to have a broad interest in psychology. I would also suggest gaining life experience prior to pursuing this career, as traits such as resilience, being non-judgemental, being flexible and adaptable are all really important for working in any forensic setting, as is having a strong sense of your own identity. It really is a very rewarding career and one that easily enables you to move into other areas if you choose.

2020 has been a tough year! How have you been maintaining your mental health?
It's been an incredibly difficult year and it remains difficult to fully comprehend the scale of the impact on all of us. With the initial uncertainty of COVID, I became focused on establishing and maintaining a structure and routine including regular exercise and healthy eating to replace all the different activities that had been taken away. I have since been through various different phases in regard to passing the time (e.g., cooking, cleaning, puzzles) and currently am just trying to remember to be kind to myself and others. I have also tried to stay focused on all the positives of this difficult situation, for example, having more time to spend with loved ones.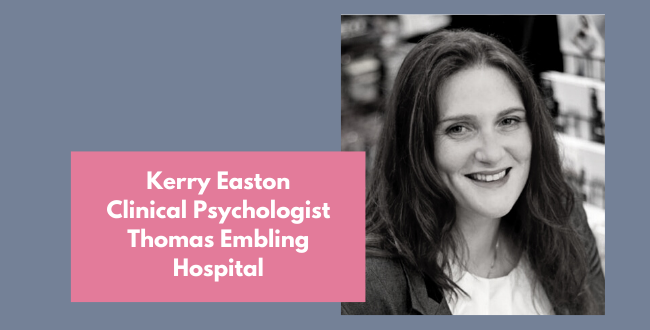 Tell us about your role at Forensicare.
My role as a clinical psychologist is specifically the assessment, diagnosis and treatment of mental disorders. I am based on Daintree that is a mixed-gendered rehabilitation unit within Thomas Embling Hospital. I work directly with Daintree in-patients assessing risk and mental disorder in addition to providing individual and group treatments. I also work with the wider Daintree treating team to develop psychological perspectives and understanding regarding patients. Treatment and interventions on Daintree are guided by rehabilitation goals with a focus on preparing patients for discharge to other units or the community. As such, there is liaison with these discharge teams.
What drew you to becoming a psychologist working in a forensic setting?
I had a long-standing curiosity in forensics beginning in secondary school that also happened to be bookended by the release of popular movies such as The Silence of Lambs and Good Will Hunting. I was motivated to understand more about human behaviour and what makes us behave the way we do. I worked in related fields such as vocational rehabilitation, supported accommodation and assessing medical eligibility for government assistance prior to completing a Master of Clinical Psychology. I was drawn to Forensics whilst working in public health when I understood I enjoyed working with complex, chronic presentations and was keenly motivated to understand the origins of complex behaviours and to provide helpful interventions. This work is also aligned with having a strong sense of social justice, wanting to understand the factors that lead to offending and provides a meaningful career.
What kind of advice would you give to a student who is thinking of pursuing forensic psychology as a career?
Studying psychology is a long-term investment. It develops a broad range of skills and a career that can take you in many varied directions. I've often had the experience where I have pre-judged what areas of practice I might be most suited to or am least likely to enjoy, only to surprise myself! Obtaining a forensic placement whilst being supported by your university and the host organization is a great way to gain experience. However, it isn't the only path to working in forensics. Obtaining clinical experience via volunteering, paid roles, internships whilst studying is also a pathway to inform your decisions about working in the forensic field. It can also be broader than hospital and prison work such as volunteering for a suicide hotline, working as a carer/support worker or with drug and alcohol service. These experiences will develop knowledge and skills that you will draw from daily as a graduate psychologist to work with this complex population.
2020 has been a tough year! How have you been maintaining your mental health?
I have had many shifts and changes in 2020 to my work/life balance. I have focussed on small achievements and as my work demands changed throughout the year, my self-care also had to match with changing circumstances. Routine and scheduling daily long walks were particularly useful earlier in the year whereas organization, problem-solving and prioritising rest breaks have been most useful later in the year. The key for me has been flexibility.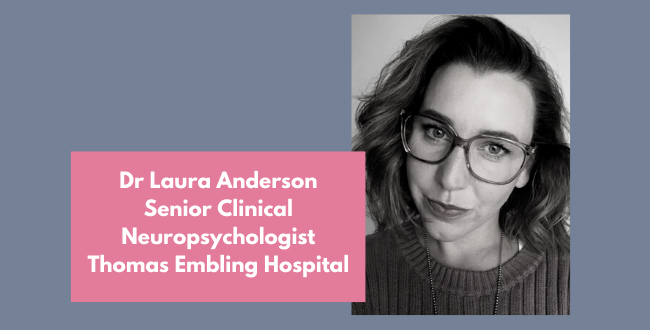 Tell us about your role at Forensicare.
My role is responsible for delivering neuropsychological services across the whole of Thomas Embling Hospital. This involves providing consultation, training and support to the multidisciplinary teams working across each unit of the hospital in regard to all things related to cognitive functioning. I spend a lot of time discussing patient presentations with staff and supporting staff to understand and adapt their treatment approaches to accommodate the cognitive deficits their patients may have. I also conduct neuropsychological assessments with many of our patients in order to provide a better understanding of the patients' cognitive strengths and weaknesses, factors that may be contributing to challenging behaviours, diagnostic clarification, and to support recovery and discharge planning. I also supervise students on placement, assist in developing cognitively informed therapeutic programs,
What drew you to becoming a neuropsychologist?
My initial training is as a clinical neuropsychologist where I have worked in rehabilitation settings throughout my career. However, after being involved in a few cases in which my clients became involved in the criminal justice system, I was drawn to the world of forensic psychology. I am particularly passionate about advocating for a greater understanding of the cognitive functioning and mental health upon behaviour and the implications this can have for assessment of risk of offending behaviour and treatment and recovery implications. There are not many neuropsychologists working within the forensic field, which can at times be challenging and feel somewhat isolating. However, this provides so much opportunity for growth and advocacy within this sector and I feel so impassioned to work within this field because of the impact that neuropsychology can have upon client's recovery – being a part of that progress for a complex client who often feels marginalised and misunderstood is absolutely the best part of the job!
What kind of advice would you give to a student who is thinking of pursuing forensic psychology as a career?
As a student, it is sometimes difficult to find out the information you need about different career directions, and forensic psychology is can certainly be perceived as quite a mysterious area of psychology. I would encourage anyone interested in forensic psychology to try to connect with professionals in the field to learn more about what this unique speciality in psychology entails. Most forensic psychologists (certainly all of my colleagues!) are extremely passionate about the work they do and will gladly share their time and knowledge with aspiring psychologists to help them determine their career options.
2020 has been a tough year! How have you been maintaining your mental health?
The challenges of 2020 have certainly given me an opportunity to practice what I preach in regard to actively engaging in self-care exercises! I have used 2020 as an opportunity to practice and refine my self-reflection skills as well as my self-compassion. I have found many times throughout this year I have had to 'check-in' with myself about my levels of stress and emotional resilience and then be quite patient and creative in finding ways to 'recharge' my batteries. I have really focused on engaging in different forms of exercise to lift my energy and mood levels as well as scheduling in regular phone calls with family and friends.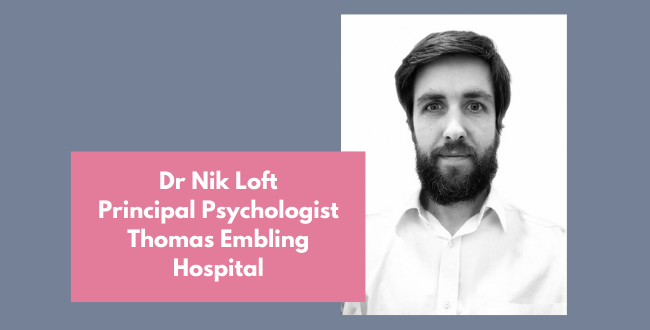 Tell us about your role at Forensicare.
My role is responsible for the leadership, supervision and training of psychologists within the hospital and have duties that extend across the hospital more broadly. For example, I contribute to service planning and development and provide consultancy and advice, both internally and externally. I provide clinical and forensic psychological expertise to Thomas Embling Hospital, through a mixture of direct psychological assessment/interventions to consumers and consultation to other staff/teams. I provide clinical supervision to other psychologists, and I am involved in recruitment, selection, training and deployment of psychology resources across the hospital. I am also involved in scholarly writing and research.
What drew you to becoming a forensic psychologist?
Fundamentally, an interest in understanding people and behaviour is what drew me into becoming a psychologist. I actually completed a doctorate in clinical psychology (in the UK) and was quickly drawn to working with consumers with complex and enduring mental health issues. I really enjoyed the clinical complexity and moved to forensic services where I was able to work with even greater complexity and risk issues over what was often a significant period of time. I've found that striving to reduce distress, improve wellbeing, and empower our consumers to live safer lives to be deeply satisfying a genuine privilege, and the main reason I do what I do.
What kind of advice would you give to a student who is thinking of pursuing forensic psychology as a career?
I think the competencies required to be a psychologist is really quite unique. As reflective scientist-practitioners, I believe it is important to develop competency in clinical knowledge and practice, research/clinical evaluation, and by stepping back and reflecting on our practice. Knowing yourself is an important part of that too. Try to talk to psychologists working in forensic services about the work and their experiences of it, and if possible, try to get some relevant clinical experience working with people with mental health/offending issues. All of these things might help you to ultimately make a more informed decision about whether or not forensic psychology might be the career for you.
2020 has been a tough year! How have you been maintaining your mental health?
I've tried to be kind and compassionate with myself, proactively looking after 'the basics' such as eating well, sleeping well, trying to get regular exercise, and connecting with others (both near and far). Both at work and at home I've tried to focus on areas I have felt able to exert some control over, recognising achievements no matter how small, whilst accepting that there have been other things that were outside of my control.
For more information about Psychology Week 2020 visit the website.