Learn from and become experts in specialist psychology.
Our psychologists – at every grade – tell us they come to Forensicare to learn from our expertise. They stay because of the opportunities they receive to become leaders in their field while supporting the mental health recovery of consumers experiencing high needs, disadvantage and marginalisation.
As a psychologist at Forensicare, you will provide a range of psychological services targeted at consumers with different needs at different stages of recovery, from early intervention and prevention to rehabilitation and community transition support. You will provide expert assessments for key clinical and forensic psychology programs and services. At selected sites you may also provide comprehensive assessment and targeted intervention addressing offence-specific needs and problem behaviours.
Are you looking for a rewarding and challenging career in psychology? Click here to find out about our Psychology Registrar program.
What do psychologists do at Forensicare?
Working within a recovery-based treatment model, psychologists at Forensicare provide a range of services.
You can practice your specialist skills across a variety of settings from inpatient to outpatient programs.
In the hospital you may:
Conduct mental health and risk assessments.
Develop, implement and support treatment and management plans together with the multi-disciplinary team.
Provide specialist advice and consultation to multidisciplinary teams across all stages of the recovery pathway.
In prisons across Victoria you may:
Work in programs to assess and treat people with mental health disorders across acute, sub-acute, rehabilitation and complex behaviour settings.
Deliver inpatient and outpatient services at Melbourne Assessment Prison, Dame Phyllis Frost Centre (women's prison), Port Phillip Prison (St Paul's rehabilitation unit) and Ravenhall Correctional Centre.
Provide consultation to a range of stakeholders in relation to the effective care and management of consumers with mental illness and problem behaviours.
In community settings you may:
Deliver specialist community-based assessment and treatment for people with a range of problem behaviours associated with offending through our Problem Behaviour Program.
Provide reports to the magistrates', county and supreme courts to inform sentencing dispositions.
Provide assessments and reports for the Adult Parole Board and Office of Public Prosecution.
Work in the Victorian Fixated Threat Assessment Centre—a joint Victoria Police and Forensicare initiative—to assess consumers engaging in inappropriate or threatening communications and actions and develop management plans aimed at engaging these individuals with mental health services as needed.
Work with people on non-custodial supervision court orders, custodial supervision orders for extended leave and for consumers transitioning to community living.
Provide reports to the magistrates', county and supreme courts to inform sentencing dispositions.
Who do psychologists care for at Forensicare?
Our dedicated psychologists undertake incredible work with people with complex mental health presentations, who are at risk of or have had contact with the criminal justice system, and often present with high levels of socioeconomic disadvantage, childhood adversity and trauma.
Our consumers often talk about how instrumental this work is in making sense of and understanding the nature of their difficulties in order to feel empowered in their recovery.
What psychology experience and qualifications do I need to work at Forensicare?
At minimum you need:
Australian Health Practitioners Regulation Agency (AHPRA) registration
a Master's or Doctoral qualification in Clinical Psychology or Doctoral qualification in Forensic Psychology – from an APAC accredited course or equivalent
be passionate about supporting people at the intersection of the mental health and criminal justice system.
The diagram below shows the qualifications required for a psychology position at Forensicare.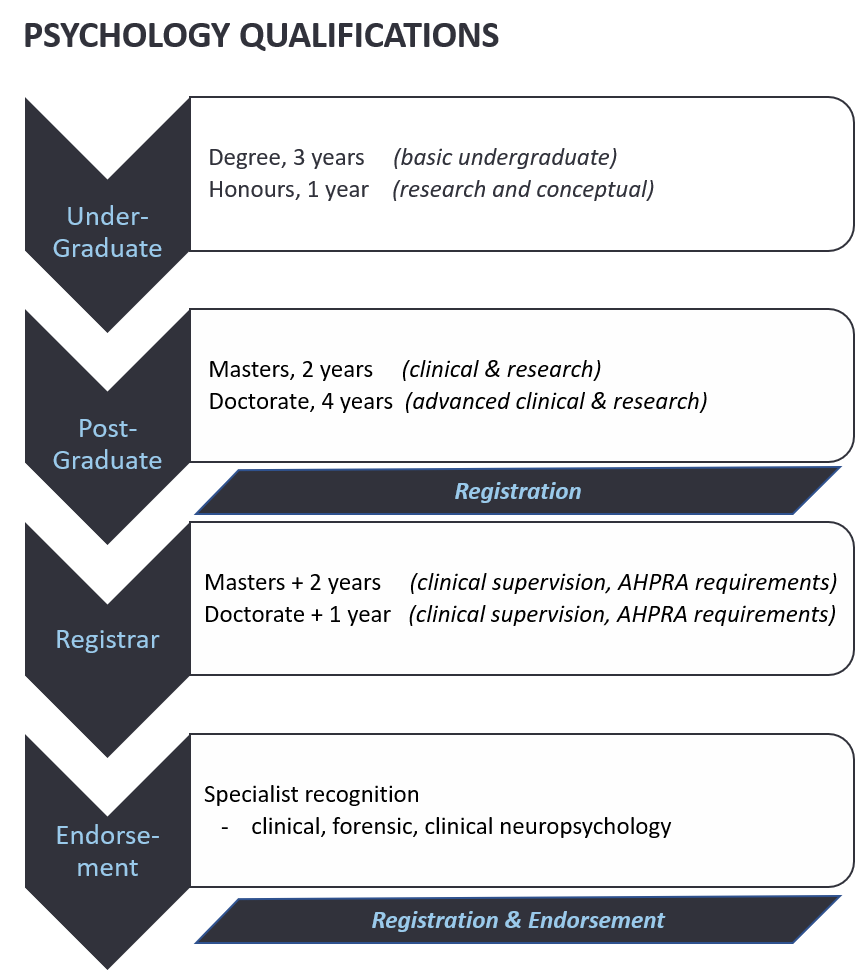 Postgraduate psychology students can apply for our student placement program.
What does a typical day look like for a psychologist at Forensicare?
A typical day for a Forensicare psychologist is varied depending on the work location, however all sites offer opportunities for a high level of direct consumer work, multidisciplinary team clinical discussion and supervision. Our staff often move between roles and services over time to gain experience or develop skills in different areas.
What support, supervision and professional development would I receive?
You will share close working relationships with a large, supportive team of clinical and forensic psychologists and multidisciplinary colleagues. We also provide ongoing training and supervision so you can grow your professional career in a range of locations.
You will receive clinical supervision and be supported by board approved supervisors. We actively support staff who are undertaking the registrar program.
If you are interested in undertaking further studies, Forensicare can support you to complete the Post Graduate Diploma in Forensic Psychology (offered by the Centre for Forensic Behavioural Science at Swinburne University of Technology) to obtain forensic endorsement.
We offer all psychologists access to professional development, specialist forensic training and research opportunities through the Centre for Forensic Behavioural Science – Australasia's leading centre in the areas of forensic mental health and behavioural science research, teaching and development.
This is in addition to the full suite of benefits available to all Forensicare employees. We pride ourselves on terms of employment that where possible exceed, and at least are equivalent to standard public mental health conditions.
I don't have qualifications in forensic mental health. Can I still apply?
Yes. As long as you meet our minimum selection criteria, we will support you to develop and advance your core forensic knowledge and skills.
I am a student. Do you have a student placement program?
Yes, we operate a busy postgraduate student program for those completing postgraduate education. Students receive regular clinical supervision and work across a range of different locations to gain experience in forensic mental health practice.
Do you accept applicants from overseas?
Yes. We welcome overseas applicants to apply for psychology vacancies and offer generous relocation support.
Find out more about the support we provide as you relocate and settle into life in Melbourne.
Who can I contact for more information?