Thomas Embling Hospital is a secure forensic mental health hospital, located adjacent to extensive parklands in suburban Melbourne. The hospital provides acute and continuing care programs and includes a dedicated women's unit.
Patients are generally admitted to the hospital from the criminal justice system under the Crimes (Mental Impairment and Unfitness to be Tried) Act 1997, Mental Health Act 2014 or the Sentencing Act 1991. A small group of patients is admitted each year from other public mental health services under the Mental Health Act 2014.
Hospital programs
The hospital was purpose designed and built to further the delivery of advanced clinical programs in the treatment of patients suffering from acute mental health issues.
A comprehensive range of therapeutic programs are provided which are innovative and provided within a recovery framework. They are designed to provide purposeful, meaningful and individual and socially valued activities.
Education and recreation programs are provided through Kangan Institute and Healthstream respectively, both external contracted providers.
Care is taken to collaborate with patients, staff, carers, other service agencies and the community to forge partnerships to ensure that the hospital meets the needs of consumers.
Accessing Thomas Embling Hospital: Important changes for visitors
Carparking and pedestrian access at Thomas Embling Hospital has changed due to construction, relating to the Thomas Embling Hospital Expansion Project.
Visitors are requested to use the Fairlea East Carpark until construction is complete. Access to this carpark is via boom gate, please use the intercom on arrival, and follow the signs to the hospital.
Accessibility parking is still available at the hospital carpark, please call the intercom at the boom gate along the northern entry road (Campus Drive), for entry.
Taxi and accessibility pick up and drop off also remains on site in front of the Administration building.
Please follow all signage and speak to reception for any clarification. Please take a look at the Carpark Allocation Map for further details. If you have any questions, please direct them to TEHBedExpansion@forensicare.vic.gov.au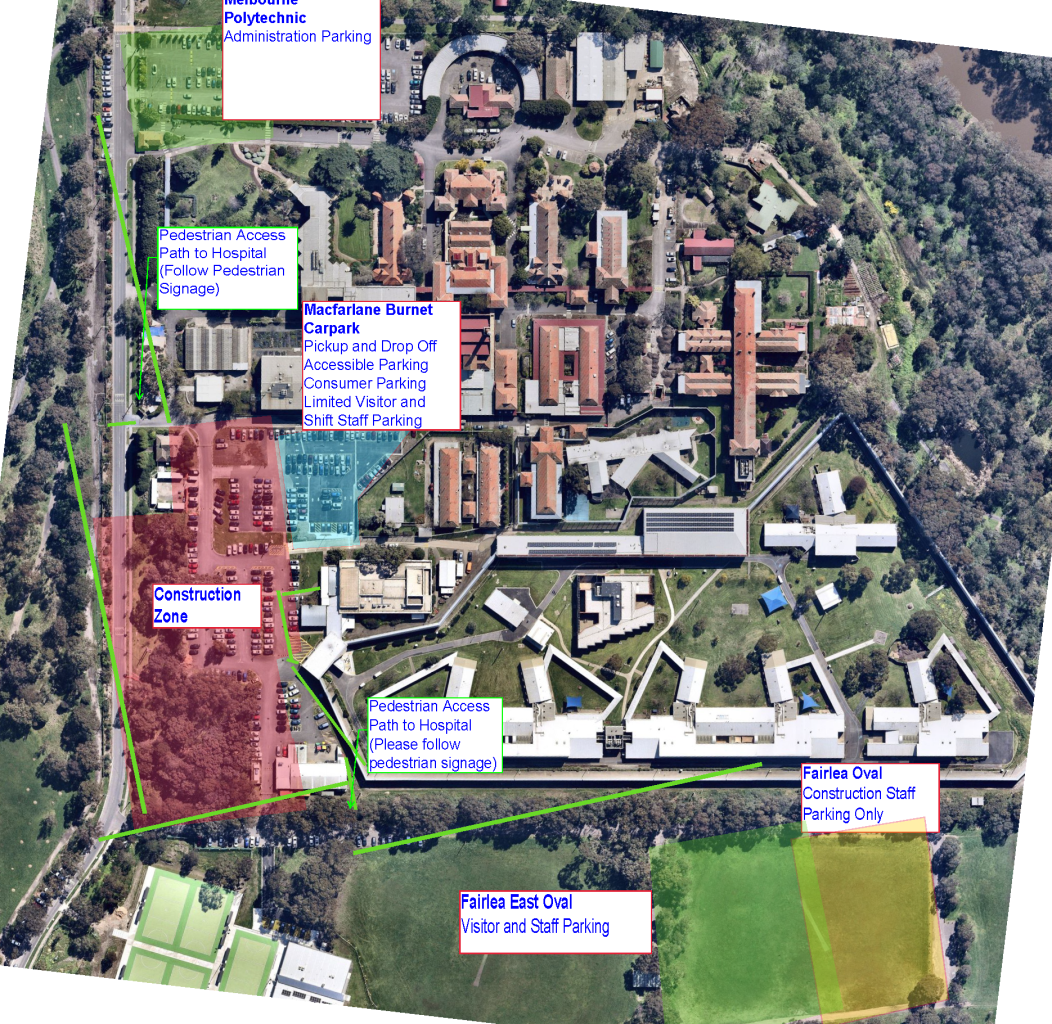 COVID-19: Important changes for visitors to Forensicare
To ensure the safety of everyone at Thomas Embling Hospital,  we have made changes to the way visitors can access the hospital during COVID-19.
For more information about our visitor policy changes during COVID-19 visit our COVID-19: Important changes for visitors to Forensicare page.
Please check back regularly to ensure you have the most up-to-date information as our policies may change.
Visitor information
Visitors to Thomas Embling Hospital are required to provide 100 points of identification before entering the hospital for the first time. More information about visiting the hospital is available on our Visitor Information Sheet which provides all you need to know about visiting the hospital.
Visiting Hours 
| | |
| --- | --- |
| Monday – Sunday | 10am – 7pm |
| Public Holidays | 10am – 7pm |
| Christmas Day | 10am – 7pm |
HOW TO FIND US
Thomas Embling Hospital is located on:
Yarra bend Road
Fairfield Vic 3078
T: +61 3 9495 9100