An Update to the Model for Understanding Inpatient Aggression
Anna Quinn
Following a review to incorporate prison specific issues, Forensicare now has an organisation-wide model.
Until recently, Forensicare's Model for Understanding Inpatient Aggression (MUIA) only reflected what we know about aggression and its management in the hospital setting.
Now it reflects what we know from prison settings too.
As senior lecturer in forensic mental health nursing, Dr Tess Maguire explains the MUIA guides Forensicare's practice when it comes to understanding aggressive acts and implementing initiatives to prevent and reduce them.
"The model can assist staff to structure efforts to reduce aggression both at the unit and broader organisational level and contributes to a safer environment for everyone," Dr Maguire said.
Key points about the MUIA:
No single factor alone ever accounts for consumer aggression.
Contextual and personal factors interact to produce aggressive behaviour.
The model provides examples of contextual and personal factors to prompt discussion.
The model also considers "near misses" where patients may be in a high-risk state, but de-escalation is successful, and they do not engage in aggression. This can be helpful in determining what interventions have been effective.
Our expansion into prisons, and the need for an updated MUIA
When Thomas Embling Hospital first opened, there was no model that outlined our understanding of aggression. So, in 2012, Associate Professor Andrew Carroll, Professor Michael Daffern, Dr Tessa Maguire and Associate Professor Trish Martin set out to develop the first Model for Understanding Inpatient Aggression.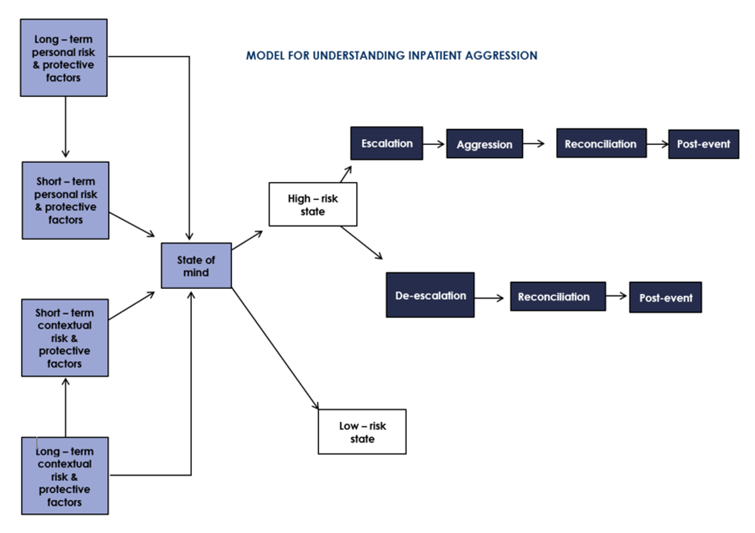 Since 2012 the model has been incorporated into training on aggression prevention across our services.
With the expansion of Forensicare's services into Victorian prisons, we discovered we needed to undertake a review of the model in a bed-based prison setting, as the model – originally developing within a forensic mental health inpatient setting – needed to be tailored for use across all our services.
The review was undertaken in conjunction with Courtney Dunn, one of the mental health nurse practitioners, along with Dr Maguire, Associate Professor Carroll, and Professor Daffern who all developed the original model. The team set out to consider and incorporate relevant contextual factors that contribute to aggression in the prison setting and how to manage them.
The updated model includes a new table that outlines contextual factors specific to the mental health bed-based setting in prisons. The tables can be used as prompts to consider all relevant personal and contextual factors.
"Prevention always starts with good assessment. We hope that the model provides a usable framework for staff at the front end," Associate Professor Carroll said.
Reducing aggression in the workplace
Now this updated model is in place, nurse practitioner Courtney Dunn hopes that it will reduce aggression in the prison settings.
"The adaptation of the MUIA to the prison environment acknowledges the complexities and challenges many of us experience working with those with mental illness and who are at risk of aggression in prison," Dunn said.
"It highlights for clinicians, managers, educators and other key stakeholders that aggression is the result a multitude of interlinking factors and is not just the responsibility of the patients and/or staff directly involved."
"I am looking forward to the next stage of implementation and considering these factors when looking at specific incidents as well as looking at ways we can reduce incidents of aggression in the prison setting."