Why forensic psychology matters
Zoe Simmons
In celebration of Psychology Week 2019, we delve into what forensic psychology is, who benefits from it, and why it matters.
Forensic psychology is often a misunderstood area of forensic mental health. Contrary to mainstream portrayal, it's not about getting inside people's minds; the reality is far more simple. It's about using psychology to support people with mental health issues who are in the criminal justice system, or at risk of entering it.
"The role of a forensic psychologist is really trying to use our expertise to understand and explain behaviour and if it's problematic behaviour—like offending—to understand how we can play a role in preventing that behaviour," Professor James Ogloff, Forensicare's Executive Director of Psychological Services and Research said.
About psychology at Forensicare
Forensicare psychologists play a vital role in supporting consumers in their mental health recovery.
We currently employ 73 dedicated psychologists, who work across our community, court and prison services, and at Thomas Embling Hospital.
"There's nothing like working at Forensicare," one of our psychologists said.
"It's an exciting and rewarding challenge. That's what drew me to Forensicare—a chance to work with and help some of society's most vulnerable, complex people."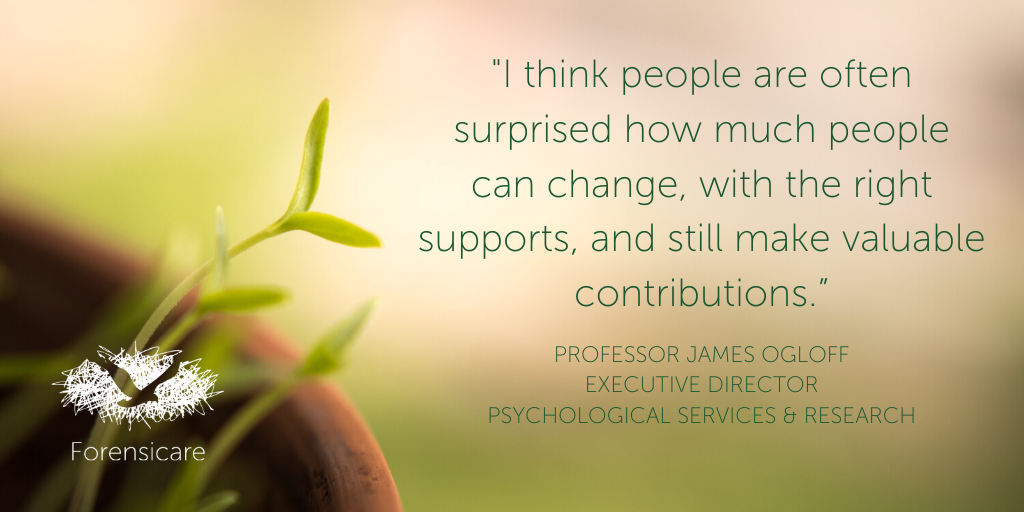 What does a forensic psychologist do?
Working as a psychologist at Forensicare involves using a range of discipline-specific skills. A normal day can involve assessing risk, preparing mental health assessments and recommendations for courts, and solving complex clinical problems—but no day is ever the same.
"Working at Forensicare offers an interesting mix of work at the interface of the mental health and criminal justice system," another psychologist said.
"It allows you an opportunity to do discipline-specific work and expand your professional skills in a supportive environment within a multidisciplinary team."
Forensicare also employs five neuropsychologists, whose expertise in understanding a person's cognitive functioning can help treating teams with treatment and management plans, helping them to understand the level of support a person needs.
"Psychologists contribute to recovery by helping people to find strategies to deal with mental health issues or problematic behaviour," Director of Psychological Services Anthea Lemphers said.
"We can help identify what led to a person's problem behaviour, and help the person—and the treating team—to develop strategies to reduce the risk of offending in future."
How forensic psychology helps people with a mental illness
Over the years, Forensicare has provided mental health care and support to thousands of Victorians who have entered the criminal justice system.
"Our dedicated team makes a deep and genuine difference in the lives of people who need it most," Anthea said.
Forensic psychology brings a simple recognition and understanding of problem behaviours and its relationship with offending into the mental health space. And understanding those behaviours form part of the first steps of helping our consumers with their recovery.
And here's what some of our consumers had to say:
"The treatment helped me reassess things," one consumer said.
"I am more in touch with my emotions, and it has opened my eyes to where my anger comes from."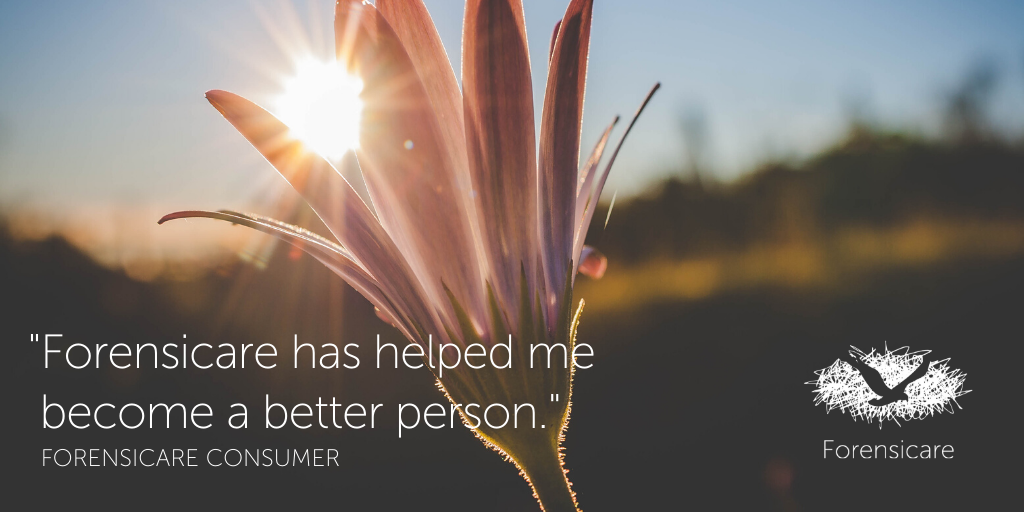 "The team listened and understood everything I dished out, and made me understand the change and how to be better, and that I am not bad—so thank you," said another.
Other consumers tell stories of how they'd been in and out of therapy their entire lives—and that it was only when engaged with our services that they began to get the treatment they need, and understand how to manage their mental health.
"The clinicians are great at explaining things," said one consumer.
"Their friendliness shows that they care about us and our progress."
"The staff are awesome, caring people who give you their time and make you feel worthy," added another.
"I think they're doing a really good job. They have truly helped me to become a better person."
Some consumers say the coping mechanisms and coping strategies they've learned have been invaluable to their recovery journey. From providing research and understanding about their diagnosis, teaching new skills (including problem-solving and communication) and providing genuine care and personal connection, Forensicare's psychology team truly go above and beyond.
"I have learnt I can work through how I am feeling and get a handle on what it is I am feeling by taking the time out to focus on it," concluded a consumer.
Getting involved in forensic psychology
There's plenty of reasons to be excited by a career at Forensicare.
We foster excellence and career advancement in a sector that is so important to so many people—and you can get involved, too.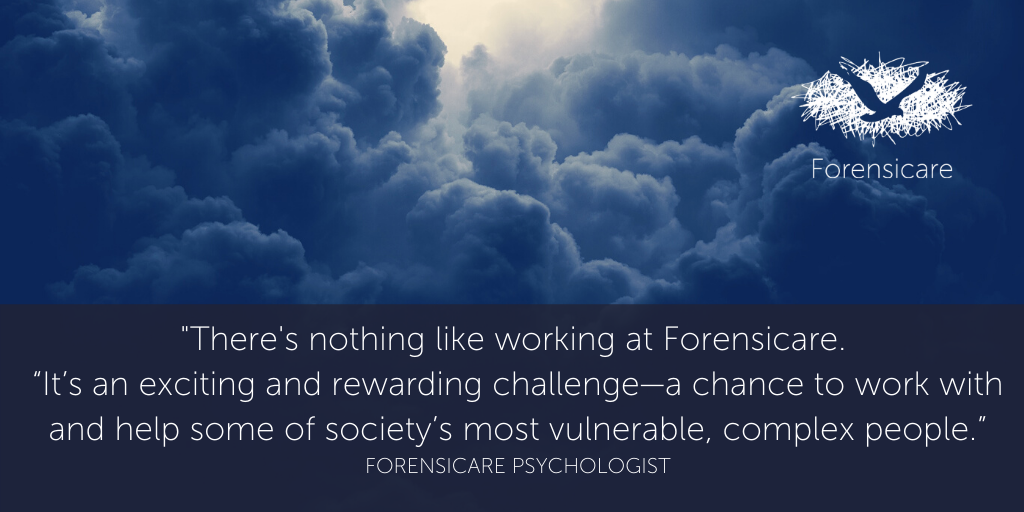 With world-renowned experts in forensic mental health, Forensicare is an excellent choice for a career in forensic mental health. We also provide internships and university placements for psychology students enrolled in either a masters or doctorate level in clinical psychology, or doctorate level in forensic psychology from accredited by the Australian Psychology Accreditation Council.
 "We value our psychologists. They're highly skilled, and we support them in their professional development and clinical supervision," Anthea said.
"Our staff also have the opportunity to developed a specialised skillset in a particular area of interest within the organisation."
Want to start an exciting career in forensic mental health? Check out our current vacancies for more information.
Interested in a university placement or internship in psychology? Express your interest to Director of Psychological Services Anthea Lemphers.